We are often asked if there are any training products/resources that we would recommend. Here are some of our favs…
Note: These posts may contains affiliate links. If you use these links to buy something we may earn a commission (at absolutely no added cost to you). We will use it to (you guessed it) buy more training stuff!  Also, we will ONLY recommend stuff we have used ourselves – and loved.  Thanks!
Essential Training Room Tools

Markers
A good marker can make all the difference. ALWAYS use a marker so the people in the back can see the beauty that is your flipchart page!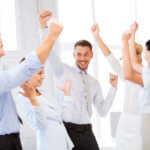 Set the Mood
Speaker:
We love to play music when participants are arriving as well as during breaks, lunch, etc. HIGHLY recommend this practice. It helps the group hit the ground running!